Custom Night Guard Pros
Defend Your Teeth From The Daily Grind
Dental–grade mouth guards to fit your budget.
The perfect fit.
Compare products and descriptions to find the best fit for your needs.
Grind Defense Night Guards

Stay-Aligned Retainer Guards

Shock-Zorbent Sports Guards

Vibrant Enamel Teeth Whitening
Backtalk is in style.
We do our research and talk back.
Check out our blog to gain some insight, and maybe a few laughs.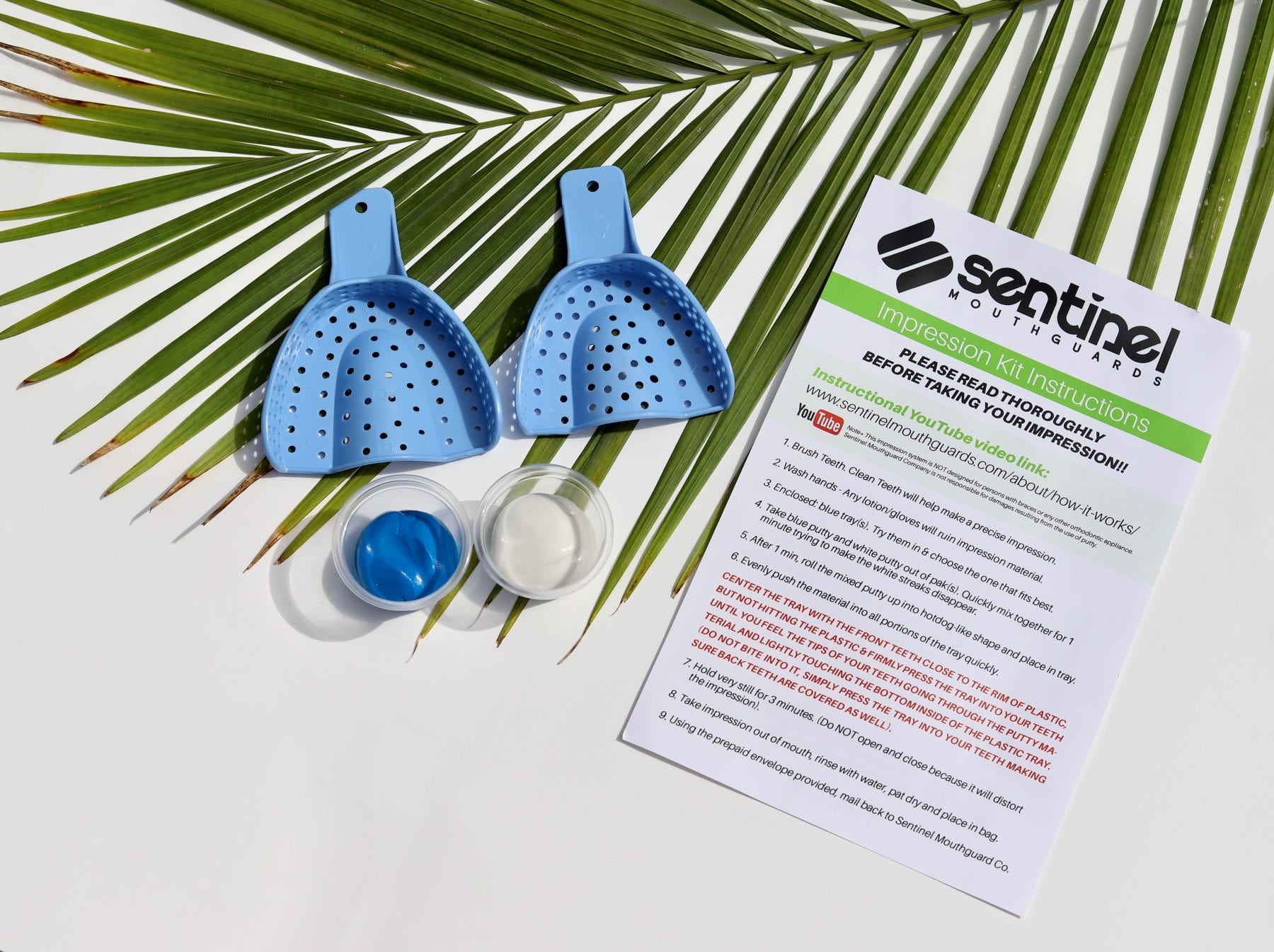 Shop our products and order the guard that's right for you.
We'll mail you our user-friendly molding kit with FAST & FREE shipping.
Create your teeth impressions with the easy, step-by-step directions.
Use the prepaid return envelope to mail back your molding kit for FREE.
We'll create and mail your perfectly fitted mouth guard with expedient turn-around service.
Show us your smile! Leave us a review to let us know how we did.
Stress causes grinding. Grinding causes stress. Eliminate both.
Braces just removed? Keep your fresh set of chompers aligned.
Involved in contact sports? Safeguard your mouth from serious injury.
Medical-grade technology.
Evolved from lab-tested dentistry, our products are free from any harmful chemicals. We only use materials of the highest quality that are completely safe for oral use.
No BPA

No BPS

No MMA

No PVC

No Resin

No Silicone

No Latex

No Leaching
#sentinelsmile
Send us your Sentinel Smile!
Earn 15% off your next order when you tag us in a selfie — it's that easy!
Take a photo showing off you new Sentinel Product

Use #sentinelsmile and tag @sentinelmouthguards when you post it on Instagram

Receive a 15% off coupon code in your DMs
CJ H.
Love the free shipping and these are the best prices on the internet. I've been through other companies and you guys ROCK!
Darren Brock
This team really does go to great lengths to meet customer satisfaction. I messed up my first dental impression and was quickly shipped another for free. Then wanted to change types after I received my soft night guard. They upgraded me and I just had to pay the difference in price. Way more flexible than my money hungry dentist! Great customer service.
Kenneth H.
I have pretty extensive damage from grinding my teeth for years. I've cracked three crowns and broken a veneer from teeth grinding. Needless to say, I should have been wearing a night guard a long time ago. Fast forward thousands of dollars later, I found Sentinel through an article online and decided to go for it. No complaints. The guard serves its purpose well. Thanks Sentinel:)"
Liz S.
This is the best nightguard I have ever owned–better than those I paid $500+ for at the dentist's. It's thinner than I am used to which initially concerned me, but the material is extremely strong and durable, so the thinness ends up being a positive because it makes the nightguard less obtrusive and more comfortable.
Ronnie C.
I never write these things because I never really care to, but Sentinel really hooked me up. They were really nice on the phone and helped me through the whole process of picking the right guard, shipping, taking my own impression etc. I chose the 2mm because I wanted strength but wanted to keep it thin in my mouth since I'm a light sleeper. This company is very professional, thanks for everything.
Janice
I LOVE Sentinel mouth guards! I've been ordering from this company for at least 5-6 years. Always quality products, wonderful service, and especially unbelievably great prices! Don't pay the dentists' high prices – buy from Sentinel and save money for the exact same thing your dentist makes – at a fraction of the cost!
Jay G.
The fitting process was quick and easy and didn't take long for the custom night guard to arrive (approximately 3 weeks from start to finish). Upon first wear, I was in shock at the positive difference! My first night went smoother and I felt like I got better sleep & zero soreness upon waking. This company will even keep your teeth impression on file for future orders which is a major plus. Thank you Sentinel!
Amanda F.
My daughter got a custom bite guard from a dentist before. He took a mold of her teeth just like this. As far as I can tell, the only difference was that it cost more to get the bite guard from the doctor. This product is working great. Prompt, hassle- free delivery.
Bree
Hands down, the best night guard out there. I've used so so many.. I notice a difference in my teeth/jaw if I miss even one day. I have contacted the company with inquiries, and the customer service reps have always gotten back to me with great response.
Patricia W.
This is the only night guard that really works for me! will never go back to other companies. I discovered this company when I visited a wonderful healing center that was treating my TMJ with cold laser therapy. The doctor highly recommended this company and I'm grateful. Sentinel is #1 in my list.
Phil W.
I bought this night guard for my son who grinds his teeth. We unsuccessfully attempted the first mold but Sentinel sent another kit out right away. So happy I could get this mouthguard at an affordable price. My dentist wanted to charge a small fortune! Thanks Ashley & the rest of the staff. You guys are great!
Sentinel Guest
A++++ fast shipping. Excellent correspondence & solid product. Thumbs up!!
Advanced Durability
Our mouthguards are built to last.
When cleaned regularly and stored properly, our products retain a perfect fit for 3 years.
We did the math – that's nearly 125K smiles.
Compare Products
Fitted perfectly to you, and your budget.
Skip the costly exams and office visits.
Our custom molds use the latest technology crafted by dental professionals to ensure your mouth guard fits snug and comfortable. We offer expedient service and a user-friendly process. —Yeah, it's something to smile about.